ข้อมูลเวอร์ชั่นล่าสุด
| | |
| --- | --- |
| App Name | Tacticool |
| Offers | Free |
| Version | 1.43.0 |
| Updated | 06-04-2022, 19:39 |
| Developer | Panzerdog |
| Category | Action , |
| ID | Google Play |
| Requirements | Android 5.0 |
| MOD Features | N/A |
Show/Hide
Explore this article
Introducing Tacticool
A 5-on-5 shooting game that requires you to stop breathing!
Crazy third-party shooter game for Android
Tacticool is an online shooter game that you should play if you want to enjoy exciting shooting scenes with teammates.
Join the game, you can choose your character. Each soldier has its own characteristics and statistics. If you win, you will receive bonuses based on the KDA, which you will upgrade to strengthen, HP, and hp. weapon… The stronger you are, the better. The more power and victory you will have, the better. So you and your teammates each match lasts three minutes, and if you die, you'll be reborn in six seconds.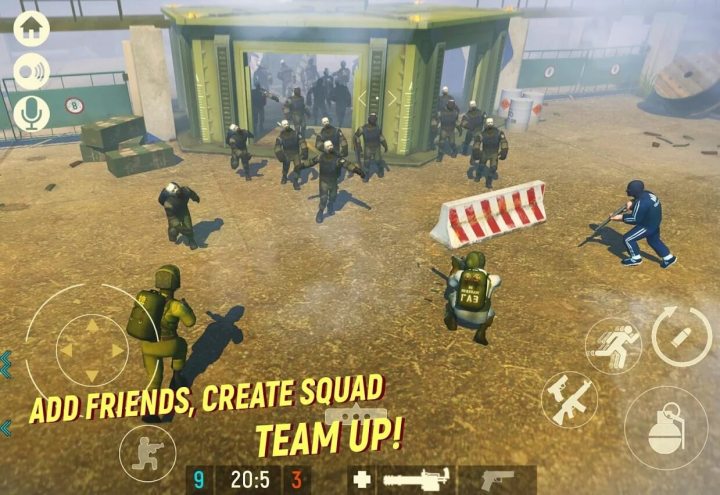 Wondering if you can shoot your teammates? The answer is no, unlike CS: GO, you and your teammates will only suffer enemy damage.
Tacticool is designed with a third-party perspective for a reason. The whole scene is evident, there are no missed details, both wide and airy, making it easy for you to see your enemies and brothers. Third-person views are not just back-to-front or top-down views, but a combination of many angles. The entire battle is remarkably illustrated, almost full 360 degrees, allowing you to enjoy every detailed shooting scene. While there is still a bird's eye view of the ongoing battle.
Some elements are available on the battlefield.
In Tacticool, you can use a number of vehicles available on the battlefield, it's easy to drive, you just need to change direction (such as character control) and move forward. Some armored vehicles can move very fast. In order to easily pass through enemy areas.
Some special armored vehicles have machine guns mounted in the back. I especially like the combos of these cars: teammates driving, and you can jump into the trunk to use machine guns to fire at the enemies below. This tactic always works. Trust me!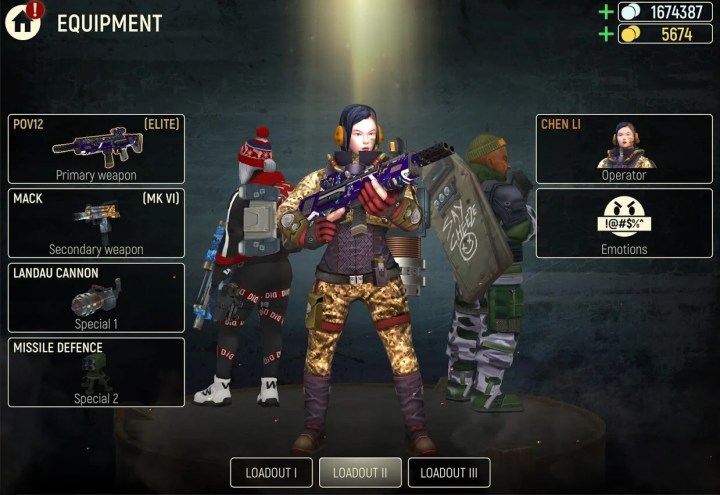 I've been worried about team mode for a while, but forgot to mention the part I like about Tacticool, unlike other third-person shooter games. The game itself is not just superficial or focused on the shooting scene. But it also explains the laws of physics in detail and makes sense, such as the type of bullet path. The ratio of the barrier, the distance of the barrier. The way players rotate and support each other … everything makes sense, like a Hollywood action movie. This is what I see today, there are multiplayer shooter games that can't be done.
Weapons & Characters
With shooting games in any mode, attractive weapons and upgrades are often a reason to draw players to the game. shotgun pistol Machine guns, knives, hand grenades, C4 assault rifles…
The characters in Tacticool are as diverse as your weapons, perhaps a group of mercenaries. Thieves, criminals, or creepy zombies. In addition, each character has some special features, for example, Boris suffers 20% less damage from the bullet and the Thor melee reduces the distribution of the bullet by 25%, Rick receives 25% firing speed, but his life force is reduced to 1900.
Tactical elements
Because each character has different strengths according to the map. You will find your own roles as well as the best strategies to coordinate with your teammates to destroy enemies. . You don't just focus on shooting skills like regular shooting games, even the game encourages you to shoot automatically whenever you have enough attack range and aim at enemies.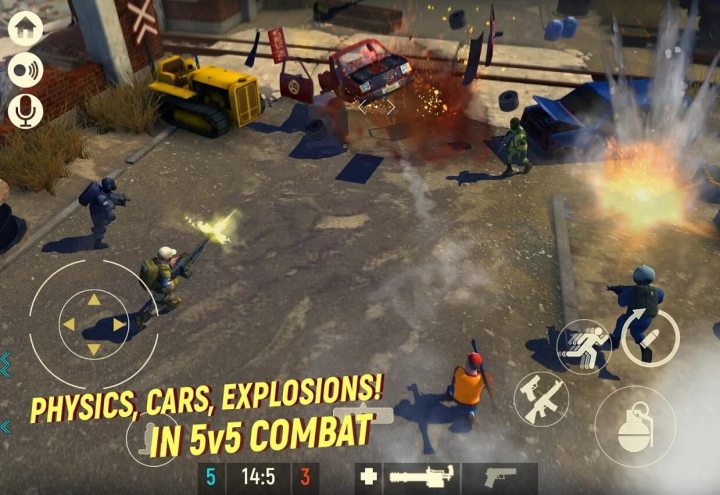 Tips for new players: Surprise action, flash attacks, constant communication and coordination with teammates. Don't focus on the kill point until you forget your teammates. With a third-party perspective, Tacticool is more like a MOBA game, you have to find your own role in the battle, remember that players who know how to coordinate with teammates have a higher win rate.
Interface of classic mobile shooting game
Tacticool's gameplay is quite simple. So you might want to focus on the Strategy section, where at the bottom left of the screen is the steering button, on the right there's a button for selecting a weapon, rotate it forward. Use explosives, change bullets. Tips for you when you're rolling Enemies can't attack you for a second. Use that to surprise your enemies.
ดาวน์โหลด Tacticool MOD APK for Android
Beautiful graphics Charming sound, attractive gameplay This game is worth playing every minute. If you have friends who like to shoot the same guns, They'll invite you to play. Are you ready to join the most exciting and exciting gunfight on mobile? Download Tacticool now!