ข้อมูลเวอร์ชั่นล่าสุด
Show/Hide
Explore this article
Introducing Ragnarok Origin
Immerse yourself in a wonderful open world!
Ragnarok Origin is based on the cartoon Ragnarok by Lee Myung-jin, what was previously so successful with the mobile version of pc version would do a miracle?
story
This Norse myth is built on the Battle of Ragnarock. The Kingdom of Asgard has abandoned its peaceful period to enter a period of official chaos, as the disturbance of the Dark Forces Ragnarok Origin is a story about the final years of the war. Loki is a villain, a human body, but inside is a demonic spirit. He has the most fearsome magic of all time, called "The Might," a decades-long war and the heroic struggles of many heroes weaken and gradually weaken Loki. Exhausted, and before he died, He left a black curse. That curse has officially spread a new terror around the world.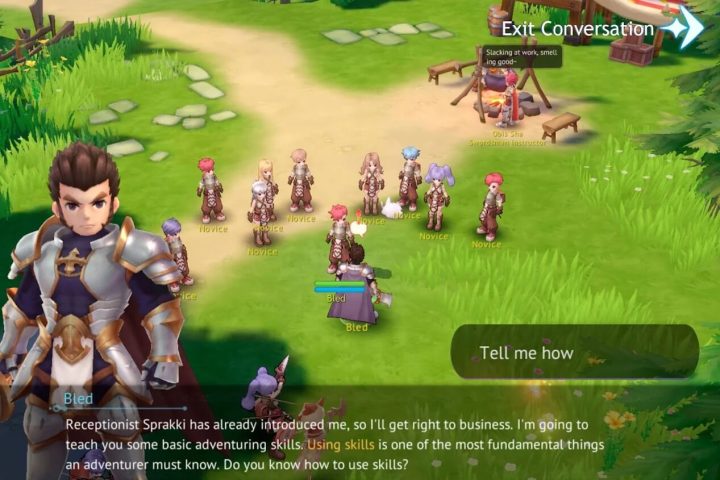 Years later, The curse of darkness has accumulated enough black energy and becomes a new force. Which officially threatens the world for the second time. As members of the Novice Academy, you and your friends will set out to find the source and destroy the remnants of all evil. A new war involving the past that determines the fate of the future is about to begin.
The journey of struggle and self-improvement
When playing Ragnarok Origin, you'll have plenty of game modes to choose from: PvE, PvP, Arena Combat, Player vs Monster, Player vs All. Each mode has its own rules and gravitational pull. The common point is that they are all amazing and easy to understand, whether there is a long story behind it or not. The main principle of the game is: fight monsters. Level up over time and launch new challenges and upgrade characters further.
The main task of the player is to always fight and fight. Your enemies are fierce monsters of the dark world. You must do everything you can to defeat them and proceed to deal with the roots of Loki's evil curse. Master of the Dark Arts
initially Your character will fight monsters unarmed. This also makes sense for future hero apprenticeship scenarios, and then you'll accumulate experience slowly up to level 10 when you make your first official upgrade. Choose a career based on your aptitude and move on from there. In Ragnarok Origin, the protagonist can choose to be Swordsman, Acolyte, Mage, Thief, Merchant or Archer, each with its own skill set and development path in the future. So, from scenes 1 to 10, it's a golden moment for you to learn on your own. Discover your true abilities and choose what works best for you.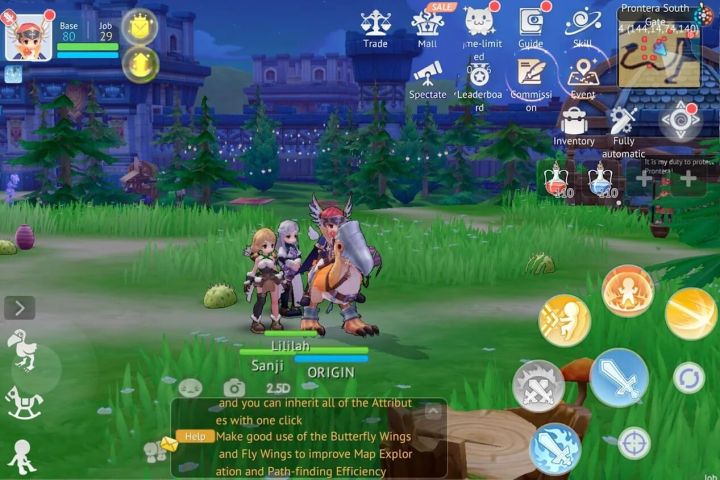 Throughout the war. In addition to skill upgrades, you'll also be equipped with and upgrade hundreds of equipment, weapons, and magic, and the burden on your shoulders now is not just a battle, but a big adventure. Face strange situations, equally strangers to gradually reveal the secrets of the kingdom. The past turns out to be about breaking the curse for the future, and only you and your teammates will discover this.
In addition to simple combat, you'll have plenty of activities on the sidelines to bring back great rewards, including skill upgrades, equipment, weapons or special skins, and more combat support vehicles. What's more, you can have a Tesla S when performing these tasks.
Adventure, be yourself.
Each character from the beginning has many options for players.
You can choose a male or female character, and then you can customize the look of the character according to your needs. A sense of self-esteem. The bond has become stronger over the years as you discover that your character has a lot to upgrade and improve.
The monsters of the game are also cleverly designed. It makes the game experience never disappoint, but vice versa. Adventure and push you from climax to climax.
Does Ragnarok Origin have special features?
The most special thing about this game is the Mercenary feature when playing alone. You can hire a soldier of other players to fight for you, and you have to pay for that, so the more gold you have, the more likely you are to overcome difficult situations with this special qualification. Not only hire, but you can also train and develop a powerful army of mercenaries to specialize in combat.
graphics and sound
The scene in Ragnarok Origin will gradually change over time and in history. As a result, each milestone is recorded, along with the many small challenges posed to the character, you will watch your character grow, mature with special abilities, and delve into more and more "forbidden" secrets. In this regard, Ragnarok Origin has filled the role. Ancient palaces, dangerous castles with mysterious European style, vast meadows that stretch endlessly. A set of characters with different shapes, ingenuity, and details.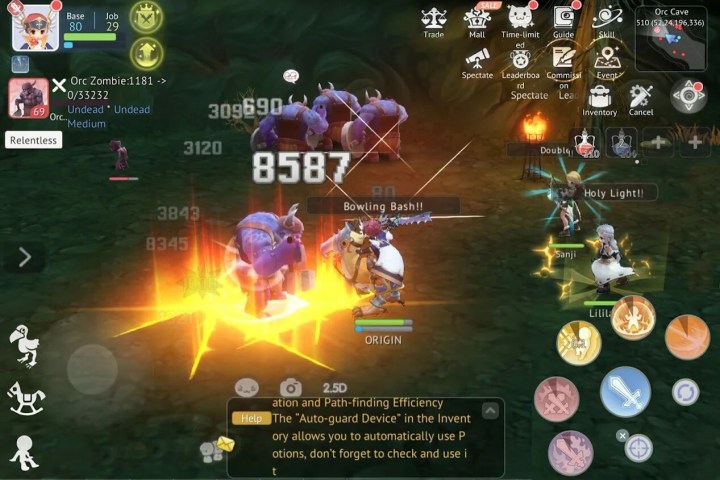 The battles or sound effects in Ragnarok Origin are generally not much different from fantasy RPG games, but the way it all is assembled is very gentle and clever, it's hard to play a comfortable and fun MMORPG, even if the storyline is quite dark.
ดาวน์โหลด Ragnarok Origin MOD APK for Android
Is Ragnarok Origin mobile as good as on PC?
My answer is yes, as on PC, Ragnarok Origin on mobile has great scenes, colorful stories, unique cuteness of each character, and complex motion lines in a lot of interesting situations. But it also includes scenes and graphics. Mobile gaming is more convenient on PC You can download and try this game to experience it.