ข้อมูลเวอร์ชั่นล่าสุด
| | |
| --- | --- |
| App Name | Football Manager 2022 Mobile |
| Offers | Free |
| Version | 13.1.2 (ARM) |
| Updated | 06-04-2022, 14:45 |
| Developer | SEGA |
| Category | sport , |
| ID | Google Play |
| Requirements | Android 4.4 |
| MOD Features | No |
Football Manager What is this mysterious profession?
Do you want to be a talented manager?
It is not by chance that football has become the sport of kings around the world. Football is a long journey for many people. Routes through up and down Unity, determination. Overcoming all the obstacles of space, time, and nationality to ultimately achieve the same goal: win for your team.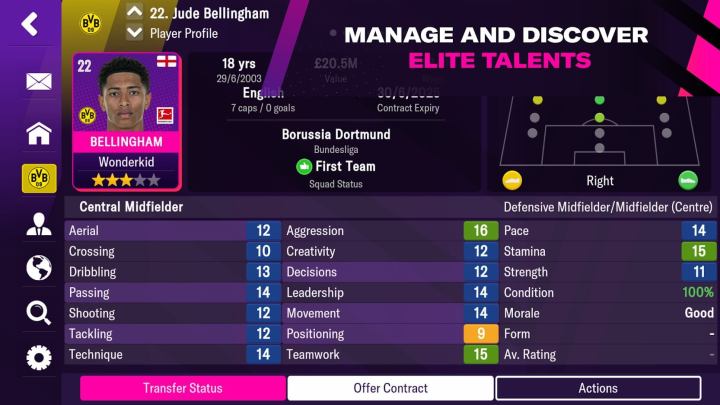 A team victory is also a victory for the manager. It takes such a series of achievements to prove that you are a talented football manager, that talent is expressed in all three areas:
To find Discover talent and train promising young stars.
Intelligent strategic thinking and a broad vision for the team's future development direction.
A set of circumstance-based features, such as patience, seizing opportunities. Problem Analysis solution Creating a sense of connection for the whole team and making the right decisions at different times.
Whoever does well in all three roles, that person will definitely become a talented football manager.
As a manager, you are both a coach and a manager who will create your own path. Draw a path and find all the ways for each player to get to that path as smoothly as possible.
The gameplay is not much different from the 2021 version.
Football Manager 2022 Mobile has over 123 tournaments to showcase your management skills. The most important part of Football Manager 2022 Mobile is the long journey. In the beginning, you'll have enough resources to build a new football club.
Then you dive into coaching each player. To understand each player's strengths. From now on, you'll plan your first strategy for a small national competition. These first few will give you a good bonus quickly.
Then more and more sets of tasks happen at times, even at the same time. Keep you thinking with tactical calculations. Consider the right decision to bring the best to your club: get rid of dirt, recruit new players. Then you check after each match with your team for a new experience, then continue playing in a variety of tournaments on a larger and more professional scale.
At the same time, you are responsible for all the problems of the team. Balance the club's revenue and expenditure. Make worthwhile investment decisions (e.g. moving players, building new training grounds…) Timely funding and investment calls
generally Being a manager requires strategy, tactics and economics. The final gain in terms of resources and experience is a measure of the success of the person in charge of managing the football club in the truest sense of the word.
In addition to the attractive elements inherited from the 2021 version that I mentioned above, Football Manager 2022 Mobile also owns a new feature that first appears: Medican Center.
In fact This is not new to those who play football games on PC frequently, but with mobile games like Football Manager 2022 Mobile, the presence of a complete medical center is phenomenal.
Health centers are where players can know all the information about the health status and fitness of the team. The overall score is the "best" item, you can see the details of each player's level of fatigue and risk of injury. From there, you'll have the right strategy and list of players for upcoming matches.
When reading the statistics table carefully, Drawn from medical center data, you'll also know which players are "lacking fire," maybe you need to give him more time to practice and get him on the field as soon as possible so that his teammates and the hot atmosphere of the match can really get him excited and shining in the game.
Since football manager mobile versions 6 years ago are often considered repetitive and less creative. When it comes to Football Manager 2022 Mobile, it's clear that this Health Center feature and overall stats table are enough to help the game elevate to a new realm, where managers' strategies and visions can shine like never before.
Some improvements
Football Manager 2022 Mobile compared to its predecessor It has brought many opportunities for tactical competitions because now that the game can load up to 5 tournaments at once, the League Without Borders in every corner of the world is now more exciting than the 2021 version.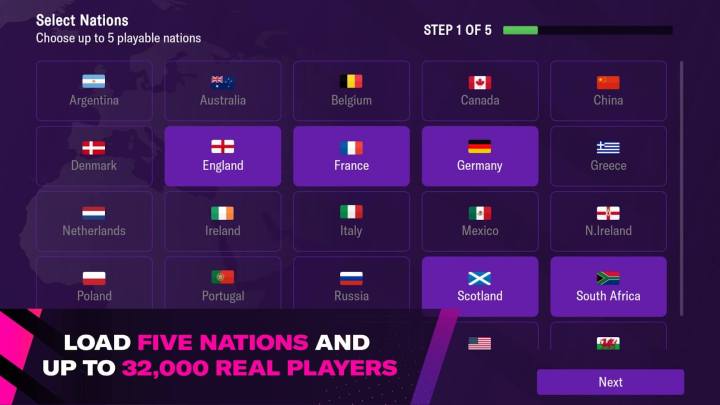 In addition to this new feature, The team of players in Football Manager 2022 Mobile also has many changes and updates. The faces of many new players appear for the first time in 2022, although these young stars spend a lot of time training and training, but having invested money and time, the opportunity to transform into a world-renowned striker or defender is entirely possible. They're like blank pages that let you write down good things. Therefore, it is easier to train and customize than too old players.
ดาวน์โหลด Football Manager 2022 Mobile MOD APK for Android
There are some games about Football Manager that embody all the features and tasks of the manager and have enough width and depth, such as this one. I think anyone who wants to fully experience this interesting work. Playing Football Manager 2022 Mobile makes the most sense.