Blade & Soul 2
APK v0.52.3
Updated on April 06, 2022 (3 months ago)
More Information
| | |
| --- | --- |
| App Name | Blade & Soul 2 |
| Offers | Free |
| Version | 0.52.3 |
| Updated | 06-04-2022, 14:49 |
| Developer | NCSOFT |
| Category | RPGs (Role Playing) , |
| ID | Google Play |
| Requirements | Android 7.0 |
| MOD Features | No |
NCSoft, a Korean game development company, has launched Blade & Soul 2 APK Part 2 of the world-famous MMORPG. Immediately after the official announcement from the publisher. It attracts millions of people to register in advance, let's find out with APKDOWN why this game is trending!
Explore this article
Introduction to Blade & Soul 2
Is Blade & Soul 2 playable?
Following the success following the release of Blade & Soul, NCSoft announced a project for Part 2 from 2018, including video games and gameplay previews, but Blade & Soul now disappoints players a lot when the game launches a number of new features and makes the mechanics switch to "pay to win" or "Play To Win."
Of course Every gamer understands that developers need funds to maintain and develop, but really, the power of non-paying players and paying players is too different. When a non-paying player approaches the strength threshold, it updates with new features and expands that distance. Even some things like amber gems. Players who don't pay simply can't get it.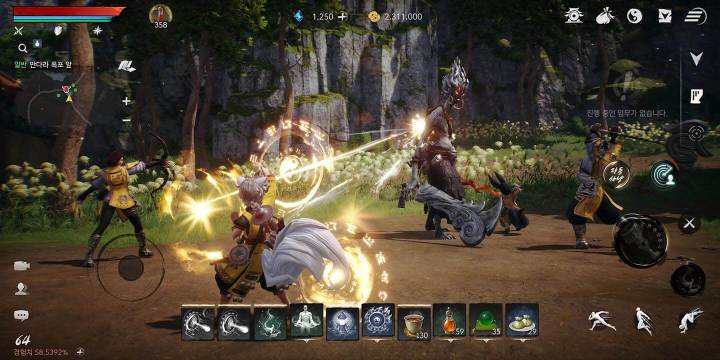 In Blade & Soul 2, developers have changed battle patterns, storylines, and a few graphics. However, after launching, the game did not meet the expectations of the players. Some players think this reissued game is not as good as the first one, but that's just their personal opinion. You should touch and evaluate the game in the most personal way possible. In fact, BnS has been traveling for almost 10 years, so stop comparing it. Let it rest and start a new journey with BnS 2.
content
Blade & Soul 2 owns a separate plot and there is no sequel to Part 1 through the game trailer. This is the ingenuity of the developer. They don't want to disclose any information before releasing this game on the Korean market. Players must discover it on their own. Keep in mind that if you skip, you'll need to make So you've missed the spirit of this game.
character
When you join the game, you'll find familiar characters again, but Blade & Soul 2 has only 3 classes instead of four characters like in the previous installment. They are known for their tireless efforts, second only to Gon – the dragon race. They believed that their ancestors were born of dragons, so they were always proud of their origins. Finally, Lyn – Spirit Race is a small and cute woman.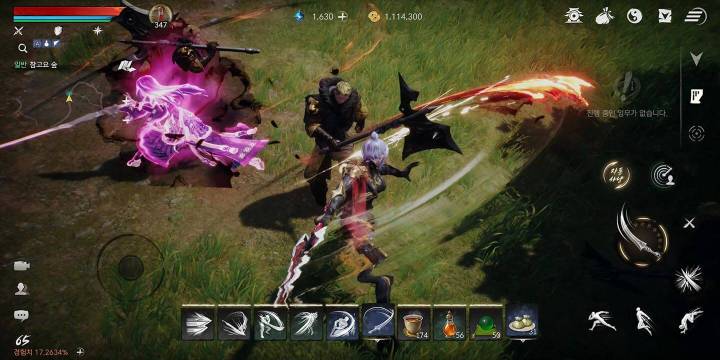 For players familiar with Blade & Soul , after selecting a character's class, you can change the look and name of your character. Especially with games with beautiful graphics. Players are even more excited, so to complete these two steps, players can spend hours choosing the look and name they want.
game play
Blade & Soul 2 has a different gameplay than Part 1, something gamers didn't expect, instead of continuing to develop old gameplay, NCSoft decided to create a whole new gameplay. Character movements are easier to reduce difficulty and easier to handle. At the same time. They reduce their evasive skills and focus more on combat mechanisms.
But that doesn't mean the game is very simple. You have to focus and dodge the attacks and skills of the boss. Unleash movements or combine skills at the same time to maximize damage and quickly eliminate opponents. Developers are also adding automation to the game so that new players can get used to it easily.
Strengthen the character.
It's an MMORPG-type game, a level system, a device… that's indispensable. When you first join a game You need to complete missions and level up as quickly as possible to open new features to help you become stronger. Regarding the device system at the beginning, you can create a device that is completely specific to your character. All raw materials can be obtained from the main and secondary quests.
Guild System
You can create groups yourself or join others to grow together. Sometimes there will be a specific mission of the guild to keep all players close together. The game also offers many other guild activities with many interesting gifts.
Dungeon
It's the most striking feature and puts the name Blade & Soul 2 in the dungeon, you'll have to face the brutal bosses, making you constantly trying for hours and having good personal skills to do. It can pass. If Dark Souls is one of the hardest games on PC, BnS is a very difficult game on the mobile platform.
graphics
Blade & Soul 2 has featured remarkable graphics improvements as developers use Unreal Engine 4 technology. The animation of the characters and skills will be very beautiful. Not to mention the grand context. This is the result after 3 years of development, NCSoft is the creation of Korean blockbuster movies with AAA-level graphics.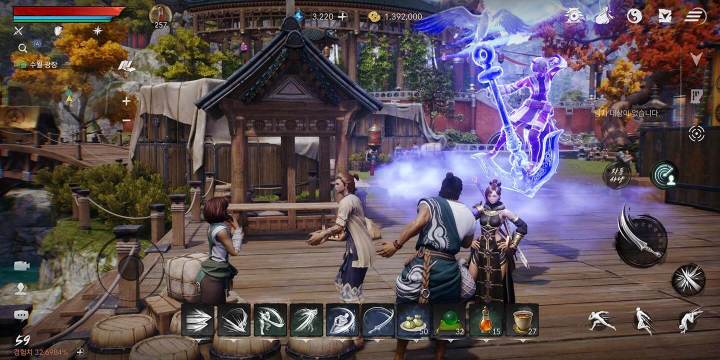 What languages does the game support?
It is quite difficult for international players because NCSoft has no plans to release the Global version, but only the KR version. All games are in Korean, so you'll have a hard time accessing the game when you don't understand what the game is trying to say. However, there are still some players available to give advice. Form a group and help you get used to the game until the language is no longer a barrier.
What's the difference between versions 12+ and 19+?
Developers launched two different versions, BnS Korea 12+ and 19+, basically both of which are the same, only 12+ versions are different, you can't trade, buy and sell on the market.
Blade & Soul 2 cross-platform?
With MMORPG games, it usually takes a lot of time to play. The developer then launched both PC and mobile, that is, your account can be played on both PC and phone. However, on a PC, you need to download the purple emulator of NCSoft to run the game and register for a PlayNC account. Don't worry about restrictions anymore as your phone battery runs out.
Download Blade & Soul 2 MOD APK for Android
With the outstanding features and graphics of Blade & Soul 2, you need your own answers. This game shows that NCSoft has gained a lot of experience from the 10-year-old game that has brought us great Korean MMORPG. Download and experience this game now!
You are now ready to download Blade & Soul 2 for free. Here are some notes:
Please read our MOD Info and installation instructions carefully for the game & app to work properly
Read the FAQ carefully for more details